Lemon Eucalyptus Oil Mosquito & Tick Repellent Spray
Regular price
Sale price
$9.99
Powered by the only plant-based active ingredient recommended by the CDC as an alternative to DEET. Repels mosquitoes, including those that may carry Zika Virus, West Nile Virus, Dengue Virus and Chikungunya Virus, for up to 6 hours. Provides 4 hours of protection against Deer Ticks, which may transmit Lyme Disease. Repels Lone Star Ticks and Brown Dog Ticks for more than 8 hours.

Bundle and Save! Shop this spray in our Premium Bundle.
*Some label variations may include "Mosquito & Tick Repellent" and "Insect Repellent".
Ingredients

Oil of Lemon Eucalyptus (30%)
Deionized Water and Corn Ethanol (70%)

Our oil of lemon eucalyptus is carefully harvested by hand using a waste-free, regenerative process for soil and land management.
Each Purchase Gives Back

2% of all sales goes back to communities working to better people and the planet.

We are 1% For The Planet members, which means 1% of all revenues help fund environmental organizations. Additionally, we give another 1% of revenues to goodwill organizations that share our values.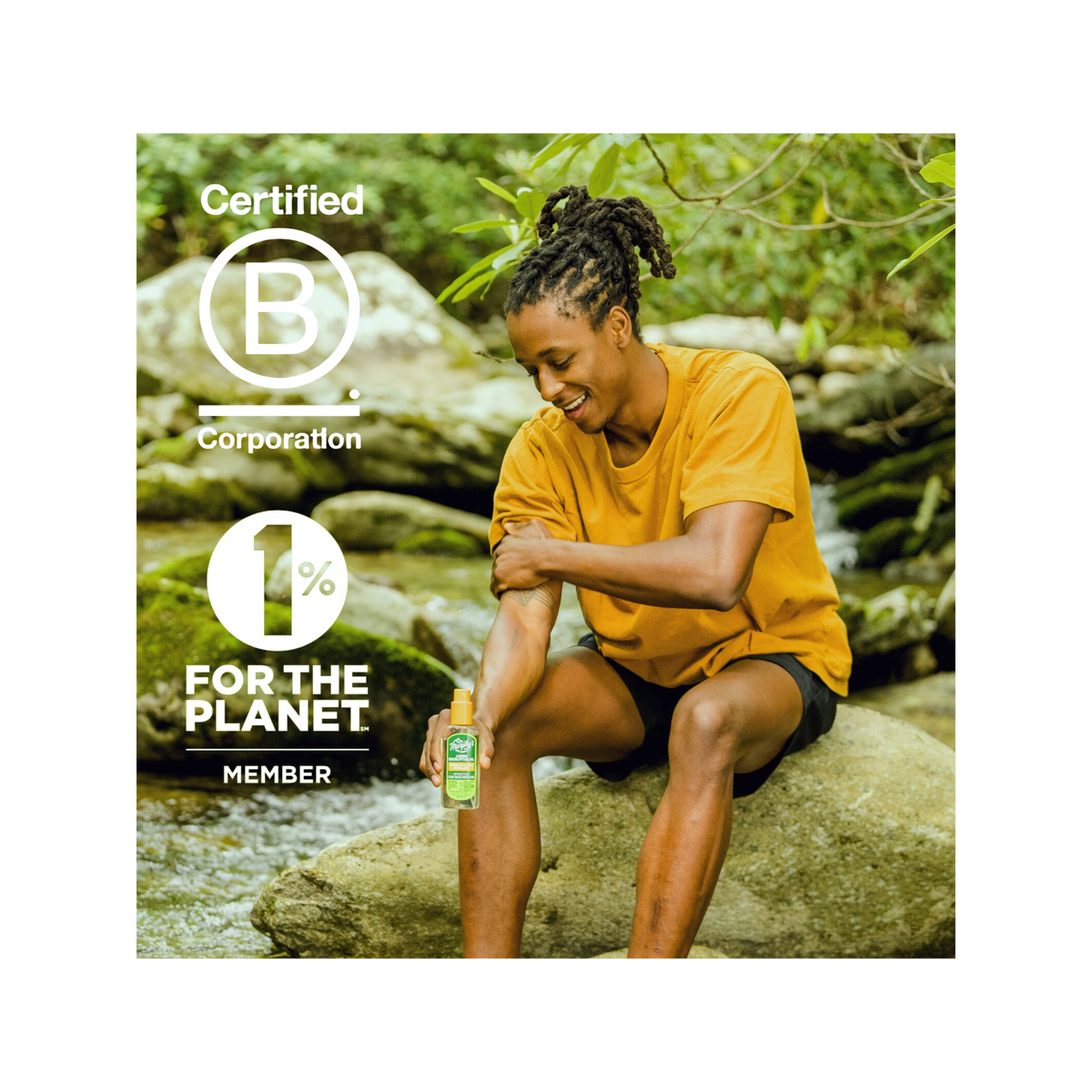 PROTECT YOURSELF... AND THE PLANET.
At Murphy's Naturals, we are on a mission to do infinite good by prioritizing people and the environment.
We are a proud, certified B Corporation and 1% For the Planet member. These rigorous certifications help us to ensure that our business is operating with the best interests of the planet and it's people (like you, reading this right now.)
Do we fall asleep each night dreaming of even more ways to exponentially do good for the outdoors? You bet we do—and we wouldn't have it any other way. We hope our products help you to get the most out of nature!
Have fun out there :)
-The Murphy's Team
MADE WITH Citriodiol® - NATURE'S REPELLENT.
A clinically proven insect repellent that is naturally and sustainably sourced, Citriodiol® is the cornerstone product of Citrefine International Ltd, a family-run company committed to socially and environmentally responsible business practices and products.
This lemon-scented active ingredient is made from Eucalyptus citriodora oil through a simple process that is environmentally sustainable. It readily biodegrades, is sourced entirely from an essential oil and has no plasticizing effect.
Citriodiol®'s credibility as a repellent is unmatched by any other naturally sourced active ingredients and top entomologists refer to its efficacy as comparable or superior to synthetic active ingredients. Check out their efficacy studies here.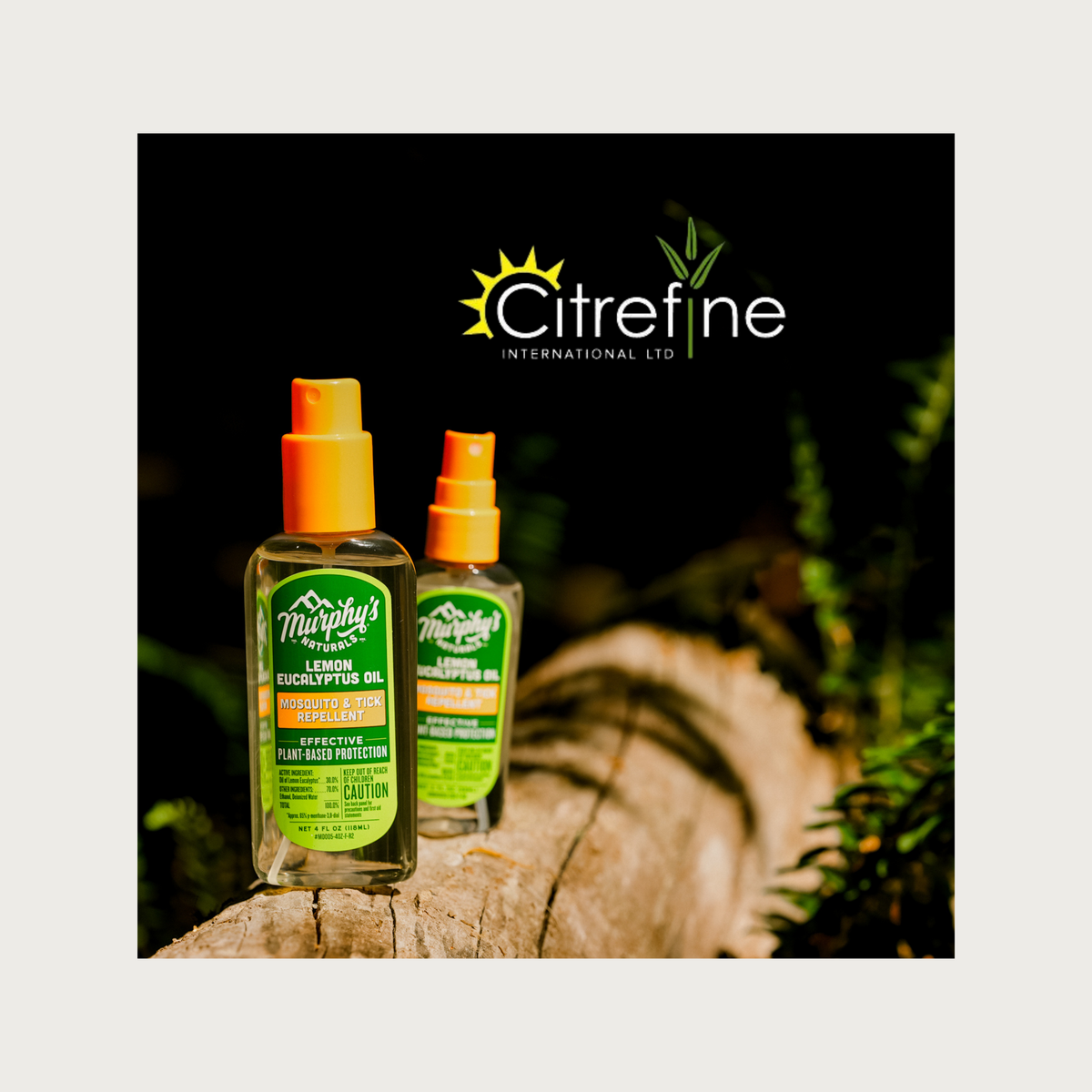 Total 5 star reviews: 116
Total 4 star reviews: 8
Total 3 star reviews: 5
Total 2 star reviews: 1
Total 1 star reviews: 2
94%
would recommend this product
Effectiveness
Rated 4.7 on a scale of 1 to 5
Jennifer T.

Verified Buyer

Benefits

Effectiveness,

Natural Ingredients,

Plant Based,

Good for the Family

A mosquito replent that actually works

I've been know to attract mosquitos from miles away. If there is a mosquito anywhere within miles they will find me. It's gotten so bad that I've avoid the outdoors. But with the stray I can actually go outside again. Although the scent is strong it's worth not getting bitten.

Effectiveness

Rated 5.0 on a scale of 1 to 5

Benefits

Natural Ingredients,

Refreshing Scent,

Plant Based

Repellent Spray

Like the scent and easy to use applicator

Effectiveness

Rated 5.0 on a scale of 1 to 5

Benefits

Natural Ingredients,

Refreshing Scent,

Effectiveness

Effective and lasting spray

It took a while to get used to the non chemical scent like other spray has but it goes on and stays on and no more mosquitoes using us for a landing pad...

Effectiveness

Rated 5.0 on a scale of 1 to 5

Marianne M.

Verified Buyer

I do not recommend this product

Benefits

Natural Ingredients,

Plant Based,

Good for the Planet

2nd time using... spray pump broke on first use

A good friend recommended this product. I'd never heard of this company. She knows I want to use more natural things, so I decided to try. The pump broke on the 1st use. I took off the spray part and just pour it on my hands or paper towels and rub it on. The scent is a little weird but I could get used to it. Today is second time using. I'm still feeling things biting me. I'll give it a few more times to see if it will finally help.

Effectiveness

Rated 1.0 on a scale of 1 to 5

stephanie m.

Verified Buyer

Benefits

Natural Ingredients,

Refreshing Scent,

Effectiveness,

Plant Based,

Good for the Family

Really works

I bought this for when I'm in the garden. It's so funny. They hover around me but don't bite. Not one sting. This spray is the best.

Effectiveness

Rated 5.0 on a scale of 1 to 5
Reviews Loaded
Reviews Added