Lemon Eucalyptus Oil Mosquito & Tick Repellent Mist
Regular price
Sale price
$14.99
Our best selling insect repellent, now available as a smooth mist (and it's 50% larger than our spray). 

Harnessing the natural power of oil of lemon eucalyptus, our repellent provides protection against pests for hours.

Spray on your skin or gear to repel mosquitoes for up to six hours, deer ticks for up to four hours, and lone star and brown dog ticks for more than eight hours.

Our mist comes in recyclable packaging, contains no DEET, and uses only compressed air (not propellant chemicals), so it won't harm your gear or the planet. With our new 360° application, we've got your back!* That means you get to enjoy your next outdoor adventure — without worrying about mosquitoes, ticks, or chemicals.
*And your arms and your legs and your neck and your just above the socks and your wherever-else-you-spray-us.
Ingredients

Oil of Lemon Eucalyptus (30%)
Distilled Water and Corn Ethanol (70%)

Our oil of lemon eucalyptus is carefully harvested by hand using a waste-free, regenerative process for soil and land management.
Each Purchase Gives Back

2% of all sales goes back to communities working to better people and the planet.

We are 1% For The Planet members, which means 1% of all revenues help fund environmental organizations. Additionally, we give another 1% of revenues to goodwill organizations that share our values.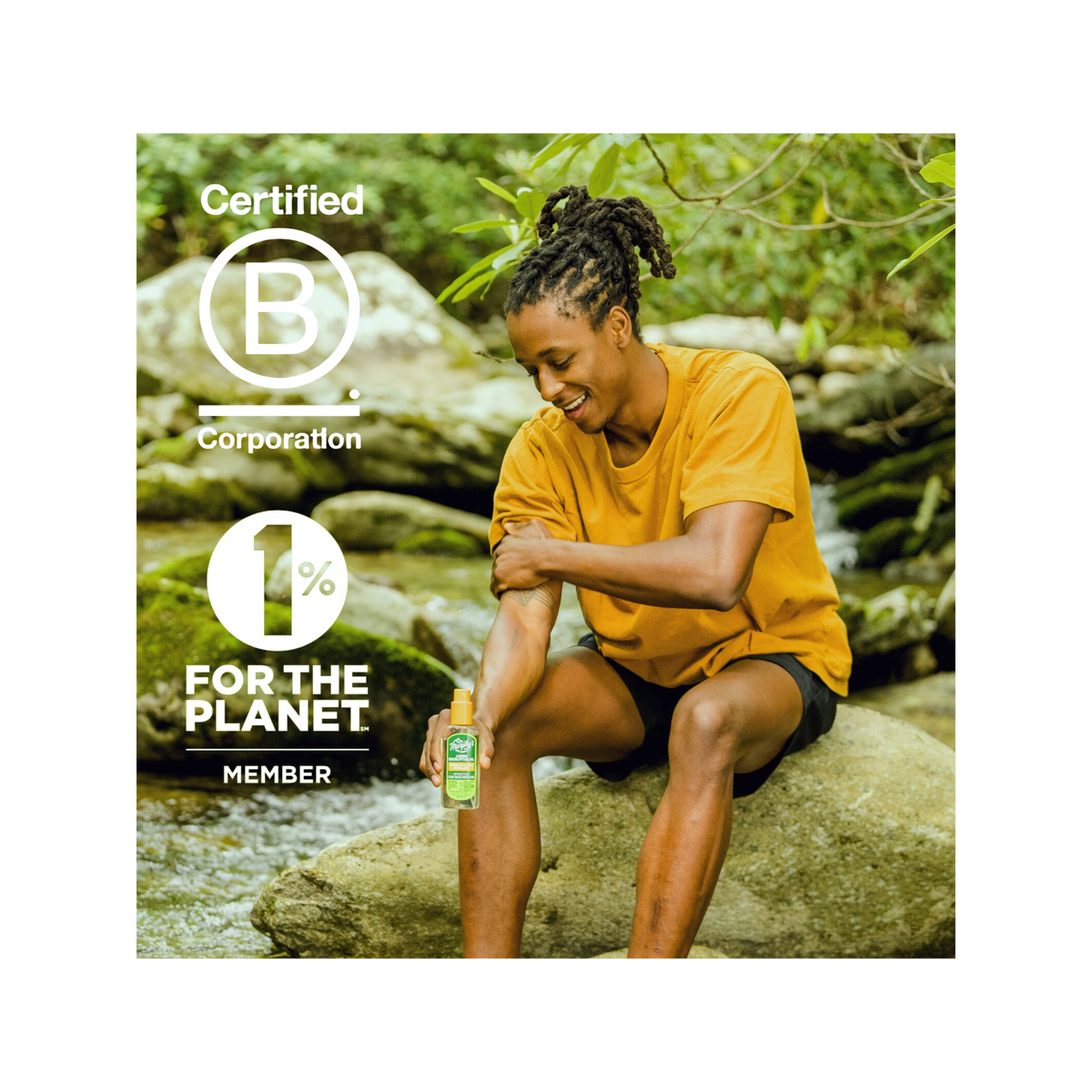 PROTECT YOURSELF... AND THE PLANET.
At Murphy's Naturals, we are on a mission to do infinite good by prioritizing people and the environment.
We are a proud, certified B Corporation and 1% For the Planet member. These rigorous certifications help us to ensure that our business is operating with the best interests of the planet and it's people (like you, reading this right now.)
Do we fall asleep each night dreaming of even more ways to exponentially do good for the outdoors? You bet we do—and we wouldn't have it any other way. We hope our products help you to get the most out of nature!
Have fun out there :)
-The Murphy's Team
MADE WITH Citriodiol® - NATURE'S REPELLENT.
A clinically proven insect repellent that is naturally and sustainably sourced, Citriodiol® is the cornerstone product of Citrefine International Ltd, a family-run company committed to socially and environmentally responsible business practices and products.
This lemon-scented active ingredient is made from Eucalyptus citriodora oil through a simple process that is environmentally sustainable. It readily biodegrades, is sourced entirely from an essential oil and has no plasticizing effect.
Citriodiol®'s credibility as a repellent is unmatched by any other naturally sourced active ingredients and top entomologists refer to its efficacy as comparable or superior to synthetic active ingredients. Check out their efficacy studies here.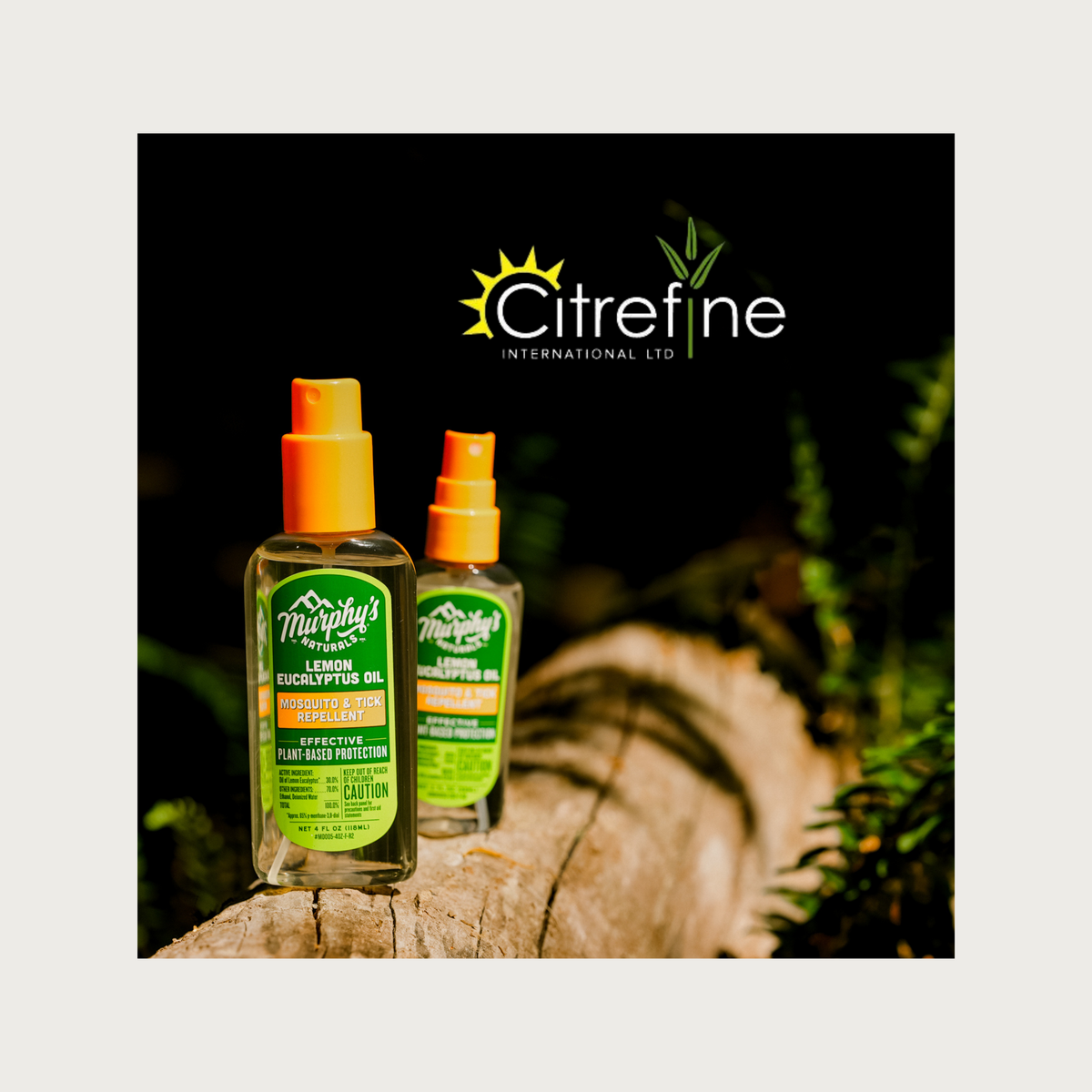 Total 5 star reviews: 30
Total 4 star reviews: 4
Total 3 star reviews: 1
Total 2 star reviews: 1
Total 1 star reviews: 1
92%
would recommend this product
Effectiveness
Rated 4.7 on a scale of 1 to 5
Benefits

Natural Ingredients

Mosquitoes attack after 5 hours

I was disappointed that the mosquitoes started bothering me again after 5 hours.

Effectiveness

Rated 4.0 on a scale of 1 to 5

Benefits

Refreshing Scent,

Natural Ingredients,

Effectiveness

HARD TO SPRAY!!!!!!!

Hard to spray out of container??????

Effectiveness

Rated 4.0 on a scale of 1 to 5

Benefits

Natural Ingredients,

Effectiveness,

Plant Based,

Good for the Planet,

Good for the Family

best smelling and most effective

I love this product, have been handing them out to family! They are natural and best smelling product that is most effective to deter the pesky mosquito.

Effectiveness

Rated 5.0 on a scale of 1 to 5

Benefits

Natural Ingredients,

Effectiveness,

Refreshing Scent,

Plant Based,

Good for the Family

The Perfect Aerosol Protection

I LOVE this product! Warm summer nights require time out on the patio as the sun goes down and dinner is on the grill. Keep those pesky misquotes at bay with the full coverage of the repellent with the aerosol spray.

Effectiveness

Rated 5.0 on a scale of 1 to 5

TY

Benefits

Effectiveness,

Natural Ingredients,

Refreshing Scent,

Plant Based

Tick repellent

So refreshing to have a nice smelling product and it works!

Effectiveness

Rated 5.0 on a scale of 1 to 5
Reviews Loaded
Reviews Added